Online Music Lessons,
Booking Website,
Payments & more.
It's easier than you think.
See SimplyBook.me appointment scheduling software in action!
Start offering your students
video music lessons

today

Join the trend of Music Schools & Teachers taking their music lessons online.
With SimplyBook.me you can:
Get a professional booking website to show the classes available

Offer online video music lessons for individuals or group sessions

Accept payments upon booking

Automatic reminders so people won't forget their music lessons

Offer bookings for all meetings, lessons, counselling & courses

Customisable text notifications if you want students to prepare for the lesson

Collect reviews and post on your booking website

Accept bookings on Facebook, Instagram, Google and Booking.page too.

Show how popular your class is by displaying spots remaining
Do you want
more bookings?
Accept bookings from multiple channels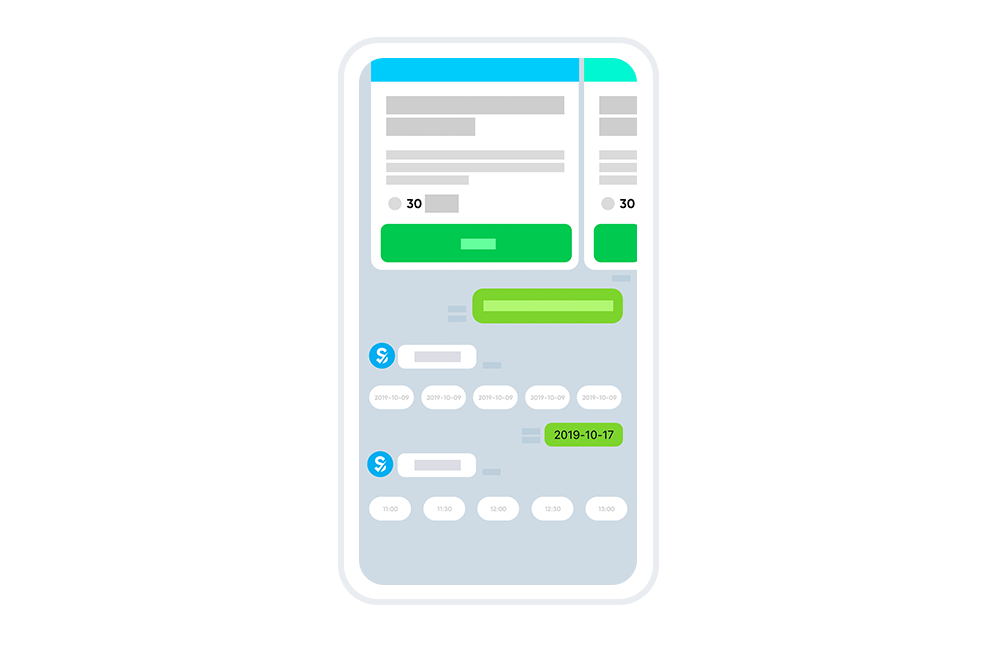 Easy as a breeze
Are your Music Students stuck at home because of the coronavirus?
Now is the time to offer your students an efficient way to continue with their music lessons. SimplyBook.me and Gruveo work together to create a great Video Lesson experience. With these two platforms, you can allow clients to book one-on-one video lessons or even join in on group video lessons. Click here to see how to set it up.
After implementing
SimplyBook

.me
Reduce
Operational Costs
Time Wasted
Staff Needed
No-Shows
Manual
Bookings
SimplyBook.me
enabled
1 month
3 months
Increase
Teacher efficiency
Student Happiness
Ease of Management
Overall Productivity
See how our current clients are using
SimplyBook

.me:
Use Video Lessons to expand your music student audience!
Use SimplyBook.me to accept booking online and offer Video lessons for your students!
Sign up today
Start offering your expertise online.
Read what our clients say
Modern Music is a leading music school providing high-quality Guitar, Drums, and Bass Guitar lessons in Coventry and Warwickshire. Tim Bowes, the owner, is one of those trendsetters who now allows his students to book and pay for lessons online while providing them with online video music lessons.
"When we asked about the implementation of the booking system with the video lessons Tim said "This process of change took a couple of hours and was pretty simple as the SimplyBook.me interface is well, simple! The fact that we have a number of tutors means that SimplyBook.me is essential for organising our time slots and services, giving students a safe payment service through Stripe and displaying a really professional point of entry with the SimplyBook.me booking website. It is a core element of our business now. We particularly love how it deals with around 80% of our admin for us!"
Let our Awesome Live Chat help you with setting up the system!
24 hour LIVE help every working day
Real immediate chat
Highly qualified, praised by hundreds of users
Guiding users like you every day
Pricing
Month
Year
You save 17%
Try our premium package free for 14 days!*
2 months free if paid annually
Included Bookings

Included bookings is the number of bookings per month that you can use.

Custom Features

Custom Features are add-on features that you can use to enhance your booking system. Please click on the "i" sign to the left to see a short video about custom features.

Booking Website

You will get your own website with the SimplyBook.me booking system. You can use it to promote your business and start accepting online bookings 24/7.

Booking Widget

If you have a website then you can embed a SimplyBook.me iFrame or booking button into it, enabling you to start accepting online bookings right on your existing website.

Facebook & Instagram bookings

Sales (POS)

Accept payments online and on-site and manage all sales in one system.

Link removal

Links to SimplyBook.me can be removed from widget and booking sites.

HIPAA

HIPAA Privacy standards for medical companies and those who want more privacy controls.
2 months free if paid annually