Why
YOU

should implement a booking system today
See SimplyBook.me appointment scheduling software in action!
Read how
SimplyBook.me

has helped service businesses all around the world to manage their business

Read what our clients say
SimplyBook.me is the ONLY booking engine which had the capability to integrate 'same-day, book & play' online booking with our in-house walk-ins ticketing system. Not only does it work, but it's a near-perfect fit! I had done extensive research & tried them all... Simplybook.me is in a class of its own. Surprisingly, customer support is also truly world-class! Nothing is perfect, but honestly: SimplyBook.me comes close. It's the best of the best.
SimplyBook.me is Simply The Best. I have used this software for close to 5 years, and it's still simply the best in the industry for my needs. There are plenty of scheduling solutions out there, but this platform is easy, flexible and consistent. Value for the cost is the best perk. You would be hard-pressed to find another product that does as much for so little.
It has a great level of scalability. We started with a free plan to give it a try, and it turned out to be very efficient. The technical support is incredibly responsive via chatting, efficient and friendly. They always resolved my issue almost instantly. It has a lot of nice integrations (Google Calendars, Facebook, etc.). You can embed the booking widget on your own website, or use the simplybook.me website for your company.
I started using Simplybook.me some years ago, initially as a beginner and now fully committed. I haven't looked back. For a small business owner, it is perfect, and new things are coming on board all the time. The best thing is the customer service, if you do have a query, they are very responsive, and the outcome is positive. You feel like you are working together to get things right.
Perfect for small business. The ease of use. This scheduling system offers great functionality for small business teams. It is very flexible and allows full control over staff schedules and services. We replaced a different system with this system and have been VERY happy that we did. The website integration has worked perfectly also with our website. The customers have commented about how easy this system is to use and that there are multiple payment options available.
Sign up Now
Whatever you do, if it requires bookings to be made and managed,
SimplyBook.me

is for you!
Get a beautiful booking website or insert a booking widget onto your current website
Stop spending time on the phone, and allow your clients to book online themselves
Reduce no-shows by sending an automated email or SMS reminder upon booking confirmation or alteration
Accept online payments and deposits, plus payments from walk-in clients with the built-in point of sale system
Send automatic review requests to clients after the service has been performed and post them online
Do you offer services, classes, membership or multiple locations? We've got you covered!
Do you want
more bookings?
Accept bookings from multiple channels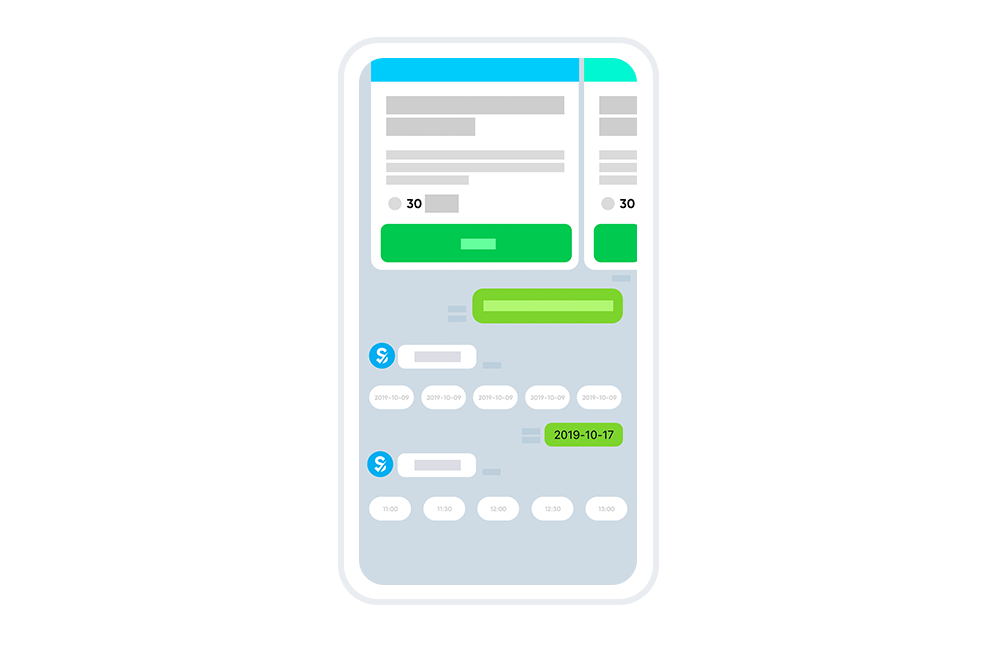 Easy as a breeze
Transform new clients to recurring ones
Keep your business open 24/7 and let your clients book themselves - they'll love it!
Send automatic "come back soon" reminders, scheduled for a predetermined time after their last appointment.
Send email campaigns detailing offers and discounts
Reward your loyal clients for referring their friends
Offer or sell gift cards, products, service add-ons and packages
Showcase your reviews and Instagram photos on your booking website
Manage your business like a pro!
Access, view and modify your business calendar at any time from any device
Manage your schedules for each location, service and service provider
Use the sales management system to send invoices to clients automatically
Sync your business and personal calendar to avoid double-booking your schedule
Monitor your business performance with powerful reports & dashboard overview
Jared Mandel, at Mandel Dermatology, managed to increase the online bookings by 400% after implementing SimplyBook.me and at the same time reduce no-shows by 30%
Sign up now
Why is SimplyBook.me the best scheduling software?
Beautiful, customisable booking websites and booking widgets
A flexible system, built as a core platform with over 50 custom features to tailor the system to your needs
Quick to set up and easy to manage
A long track record, with hundreds of thousands of worldwide users over the past 10 years
Possibility to buy quick setup or full setup assistance which comes with one month of direct access to a personal account manager
Outstanding Live Chat, praised by thousands of users, ready to help with everything you might need - as long as it relates to the booking system:)
Frequently Asked Questions
What is an online booking system?
An online booking system is a solution that can be used for all service businesses accepting appointments. By implementing an online booking solution, a service company can define their opening hours, services offered and available employees, which enables customers to book available slots online instead of having to call the company to schedule an appointment. SimplyBook.me provides just such an online booking system, with multiple features enabling service companies to manage most of their business through a single platform.
Why is appointment scheduling important?
It is vital for service companies to manage their appointment scheduling professionally and efficiently. Not only does it save a lot of time trying to schedule clients via emails or phone, but also it allows you to access your booking calendar at any time from any device.
How do I create an online booking website?
The best way to create an online booking website is to sign up with a scheduling software provider that offers a customisable full website, including a booking system. SimplyBook.me offers a range of booking website templates that you can choose from and then customise according to your brand. You can add as many pages as you like, upload images, sync it with your Instagram photos, display your reviews and, last but not least, offer your clients a way to make an appointment with you.
What is an appointment reminder system?
Appointment reminders are an integral part of online booking systems. After the client has booked an appointment, a confirmation reminder is sent automatically to the client by SMS or email. Then another reminder is sent just before the appointment is scheduled to take place. In advanced scheduling software, such as SimplyBook.me, both texts and timing of reminders can be customised.
What are the main benefits of scheduling software?
The main benefits of advanced scheduling software are: Time savings Better business overview via dashboard and reports Reduced no shows with appointment reminders and upfront deposits Better Client retention via emails and promotions More sales per client via product sales upon booking and gift cards More bookings via more channels like Facebook, Instagram, Google, Booking.page etc.
How do I add a booking option to my website?
For service businesses that already have a website, but want to add a booking option for their clients, we recommend signing up for an online booking software that offers widgets. By adding a booking widget to your website, your clients will be able to book your services via your website. SimplyBook.me provides widgets.